The camera can record when a motion is detected. To set up this function, see the "Motion detection" section.

The camera has no internal memory, so an SD card must be inserted into the camera. The SD card slot can be found on the camera backside under the rubber lid, next to the power cable. The SD card should be Class 10 rated for best performance.

To manually record, go to the live video by locating the camera name and tapping the snapshot or icon below the camera name.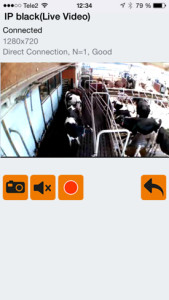 In live video mode, tap the red circle button to start the recording. The camera will record for 60 seconds and you do not need to switch off the recording; it will stop automatically.

To take a snapshot, tap the camera button. No SD card is needed to take snapshots as these will be saved in your phone/tablet. For iOS, they will be saved in the Camera Roll. For Android, they will be saved in the Photo Gallery – snapshot folder.

To view your recorded files, go to the main menu, tap the Settings button.

Then tap the Event List button for the camera where the recordings are made.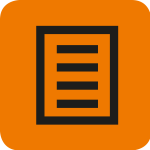 You will now see an empty Events List. Tap Search and set the filter to the time interval you wish to see. Tap OK. You will now get a list of all recorded events. Tap the row you would like to watch.

If you would like to download a video to your phone/tablet, press and hold briefly the video row in the events list.

Tap Download and the file download will start. When it is finished, tap Back and you will return to the Events List where you will see the downloaded video marked in red text.

If you would like to delete recorded files, you can choose between delete specific files or to delete all recorded files.

To delete specific files, tap Delete One in the bottom of the Events List. You will then see a red icon in front of the files. Tap the file you wish to delete and confirm by tapping the Delete text which shows up.

Tap Done in the bottom of the Events List when you have deleted your files to exit the Delete mode.

To delete all files, tap Delete All in the bottom of the Events List. You will then be asked to confirm that you wish to delete all files.