Up to four cameras can be connected to the machineCam monitor. The camera included in the machineCam system will be default paired to Channel 1.

Do not power up the camera at this stage. On the monitor, use the arrow buttons to select the channel you wish to use for your new camera. The channel is shown in the top left corner.
Press the circular button to access the menu. NOTE: Do not press and hold – this will turn the monitor off. Use the arrows to navigate to the Add Camera icon.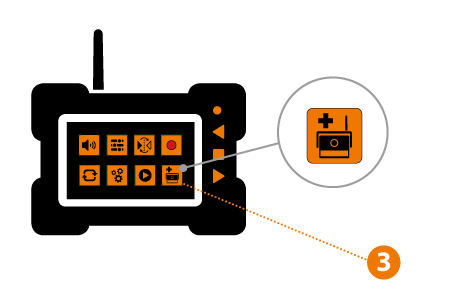 The active icon is indicated with white. Press the square to enter the option. You will now see a text "Pairing Start" and a countdown. Power up the camera and it should automatically find the monitor and allocate itself to the selected channel. If the camera image does not show up automatically, use a pen or paper clip and press the internal button marked with "PAIR" on the back side of the camera, close to the antenna connection. This must be done within the countdown.